You don't have to drive all the way to Seattle for premium microbrews and cool glasses of crafts beers—just north of Seattle, our beer scene is brimming with local options that any craft connoisseur will appreciate. Whether you want to fill up a growler, go on a weekend beer tour, or just grab a pint with friends, these 7 breweries just north of Seattle in Mountlake Terrace, Lynnwood, Edmonds, and Kenmore all offer the perfect place to start!
MOUNTLAKE TERRACE
Diamond Knot Brewpub at MLT
Located at 5602 232nd Street SW Mountlake Terrace, WA 98043
Hours: Monday-Thursday 11am – 11pm, Friday 11am – Midnight, Saturday 8am – Midnight, Sunday 8am – 11pm
Recommended by both REALTOR® Brian Hayter and Shelly Katzer, the Diamond Knot Brewpub is a local favorite. Started by Bob Maphet and Brian Sollenberger as a hobby, Diamond Knot Craft Brewing now makes over 600 barrels of beer every single month! Diamond Knot mainstays include their India Pale Ale, Industrial IPA, Blonde Ale, Pipe Down Brown Ale, Above Board Pale Ale, E.S.B. Steamer Glide Stout, Possession Porter, and Hefeweizen.
TIP: You can also grab breakfast, lunch or dinner here, plus they're family- and dog-friendly!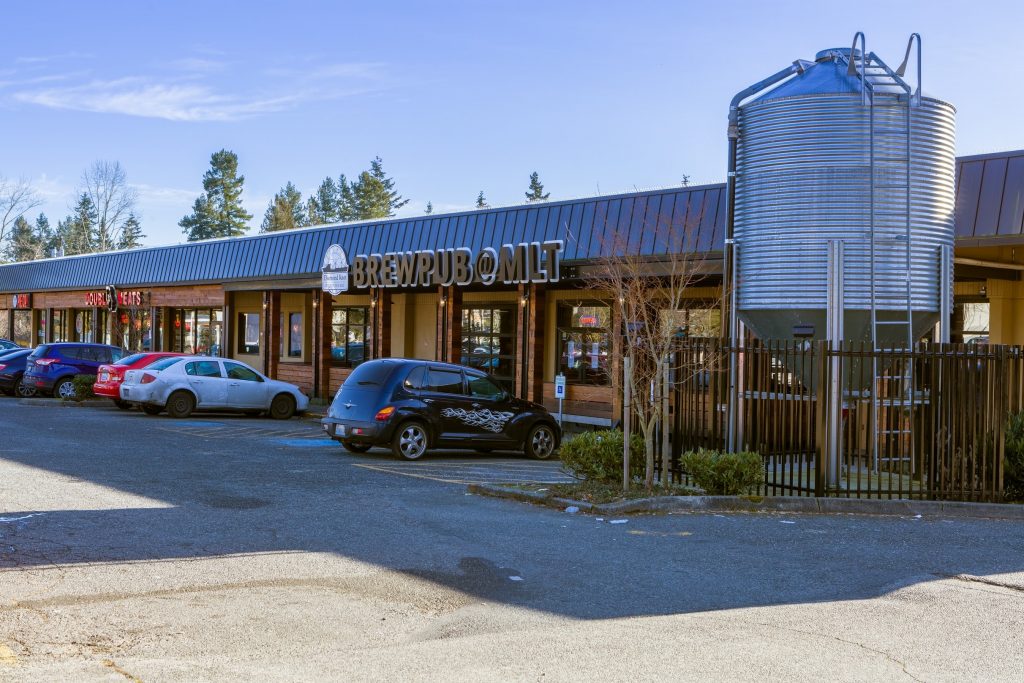 ---
LYNNWOOD
Big E Ales
Located at 5030 208th St SW Suite A. Lynnwood, WA 98036
Hours: Tuesday – Thursday 1pm – 10pm, Friday & Saturday 11am – 10pm
Brewing since 1997, Big E Ales serves up hand-crafted ales alongside a full, mouthwatering menu of delicious appetizers and entrees. You can stop by for a refreshing beer with friends, or even book the Brew Room for events like wedding receptions and company parties.
TIP: Their blog is packed with interesting beer history!
---
EDMONDS
Salish Sea Brewing Company
Located at 518 Dayton St. #104 Edmonds, WA 98020
Hours: Monday – Wednesday 3pm – 9pm, Thursday 3pm – 10pm, Friday – Saturday 12pm – 11pm, Sunday Noon – 8pm
Home to a variety of carefully crafted brews, Salish Sea Brewing Company is a staple of the region. Beer lovers can choose from their Drop Anchor IPA, Salish IPA Dayton Street (3 SEAS) Session ISA, Driftwood Pale, Honey Golden, NW "Wildfire" Red, Expansion Amber, Kodiak Brown Porter, Prior Porter, Big Chocolate Love:  A Robust Porter, and the seasonal Blackfish Stout and Blizzzaak Winter Ale. In addition to grabbing an ice-cold brew, you can enjoy an evolving menu of sandwiches, soups, and appetizers.
TIP: Families are welcome, and dogs are allowed on the outside patio.
---
American Brewing Company
Located at 180 W. Dayton St. Warehouse 102 Edmonds, WA 98020
Hours: Monday – Thursday 3pm – 9pm, Friday 3 – 10pm, Saturday Noon – 10pm, Sunday Noon – 8pm
At American Brewing Company, craftsmanship and science are at the forefront of everything they do and create. Started in 2010 by Adam Frantz, American Brewing Company benefits from Adam's years of practice and his worldwide travels that have influenced his craft beers. Their consistent offerings include an India Pale Ale, Pale Ale, Kolsch Ale, Stout, and a selection of seasonal and specialty beers.
TIP: These guys also brew 6 flavors of kombucha!
---
Gallagher's Where-U-Brew
Located at 180 W. Dayton St. #105  EDMONDS, WA
Hours: Tuesday – Friday 2pm – 8pm, Saturday and Sunday 10am – 5pm
Ready to DIY your own brew?! Gallaghers Where-U-Brew offers an amazing opportunity to create your very own craft beer! They provide you with everything you need to brew a batch of beer… and it only takes 2 hours! They're guide you through the different types of brews you can create, help you select what you're most interested in, and assign you to a professional brewing kettle with instructions on how to get started. Then, you set a date (usually 2 weeks later) for you to go in a bottle your beer! Learn more about the process here.
TIP: You can also brew ciders, root beer, and make your own wine at Gallagher's!
---
KENMORE
Nine Yards Brewing
Located at 7324 NE 175th St., Suite A Kenmore, WA 98028
Hours: Monday – Thursday 2pm – 10pm, Friday 2pm – midnight, Saturday 11am – midnight, Sunday 11am-10pm
Located right off the Burke Gillman trail in Kenmore, Nine Yards is a popular local establishment. Stop by for hand-crafted brews, food trucks, pinball machines, Skee ball… this happening place has it all, and is great for group gatherings or parties.
TIP: This establishment is open to all ages!
---
Cairn Brewing
Located at 7204 NE 175th St. Bldg A, Kenmore, WA 98028
Hours: Wednesday and Thursday 4pm – 9pm, Friday 3pm – 10pm, Saturday 11:30am – 10pm, Sunday 11:30am – 6pm
Cairn Brewing is a hub for beer drinkers and beer brewers alike. Stop by to enjoy a pint of the many on-tap offerings, 5 of which are always served directly from the tank! (There will also often be a food truck parked outside for your convenience!) Or, for those who are interested in learning the craft straight from the masters, sign up for a homebrewing class! Learn about the beer-making process, and actually brew a batch in class.
TIP: The Cairn Brewing taproom is family- and dog-friendly!