One of Mill Creek's top attraction is the popular Mill Creek Town Center! "The city now has a mixed-use, city-sponsored complex called the Mill Creek Town Center…," shares our own Travis DeFries. "It is easy to spend several hours walking the sidewalks and checking out the small, local businesses, along with the numerous wonderful restaurants."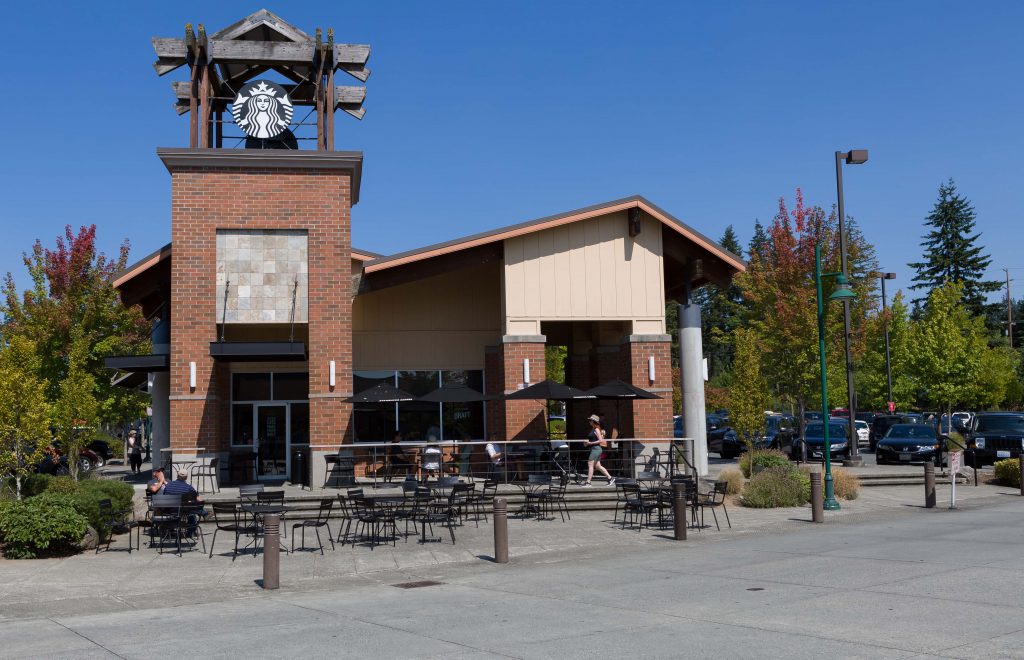 Indeed, with everything at your fingertips, it's hard not to feel like you're in the big city: "I love the convenience and the downtown feel of the Mill Creek Town Center," says Ginna Demme. "I can grab my coffee, get a manicure, grocery shop, and run other errands all in the same great spot!" Tonya Tye agrees, noting "the Town Center is a fun place to walk around, go for coffee, dessert or dinner."
Here is your complete guide to dining and shopping in the Mill Creek Town Center (as recommended by locals!):
---

Located at 15605 Main St. Mill Creek, WA 98012
Hours: 7:00am-11:00pm
When it comes to grocery shopping in Mill Creek, no place beats the Town Center's own Central Market. "Central Market is a destination grocery experience," says Jen Bowman. "Best produce, delicious prepared foods for a quick and healthy meal, awesome sushi, and great floral selection for cut and potted plants and flowers."
Heather Potts agrees, noting "Central Market Grocery Store has the best selection of fresh fruit, wine, seafood, meats, made-to-order sandwiches, fresh sliced deli meats and cheeses, a large selection of organic foods, sushi and more." Follow Heather's suggestions and "grab a bite to eat and enjoy the outdoor courtyard or stop to shop for a special dinner…" No matter what, you are sure to have a one-of-a-kind experience at this store that, as Heather simply puts, "has it all"!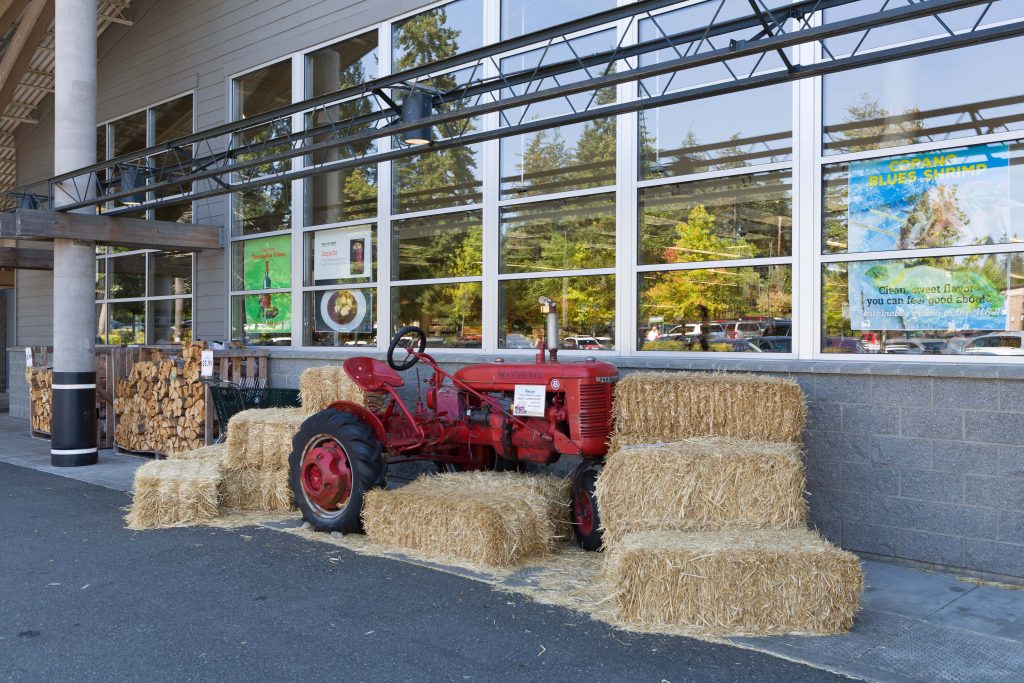 ---
Located at the Forum (15111 Main St. Mill Creek, WA 98012)
Hours: 6:00pm-8:00pm Wednesdays
There is much more to Mill Creek's Town Center than just shopping, as Travis can tell you: "In the summer they have free outdoor concerts every Wednesday night from 6-8 PM. Bands that have played this year include Fabulous Roof Shakers, The Infinity Project, Big Dog Revue, High Voltage, Highway 9, Cherry Cherry, Sly Mr Y, Creme Tangerine and Ventura Highway Revisited."
They have expanded this year's series into September, so check out the Town Center events calendar for more info (and get your dancing shoes ready!).
---

Located at 15118 Main St. #100 Mill Creek, WA 98012
Hours: 11:00am-1:00am Monday-Friday (Dinner served until 10:00pm Sunday-Thursday, 11:00pm Friday-Saturday) ; 9:00am-1:00am (Brunch 9:00am-3:00pm)
Whether you're looking to wind down after a long work week or want to take the family out to a nice dinner, Azul Restaurant & Lounge is an excellent choice: "Azul Restaurant & Lounge is located in the Town Center and is open for lunch and dinner each day," shares Travis. "Its upscale, casual environment, paired with the Latin-inspired cuisine, makes Azul a perfect gathering spot in Mill Creek."
Check out their popular Happy Hour menu, featuring $2.00 chips and salsa, drink specials, and some of the best Mexican and Caribbean dishes this side of the border.
---

Located at 15311 Main St. Mill Creek, WA 98012
Hours: 9:00am-8:00pm Monday-Thursday; 9:00am-9:00pm Friday-Saturday; 10:00am-6:00pm Sunday
Back-to-school time is here again, which means it's time to stock up on everything you will need to start the year off right. Luckily, Mill Creek Town Center is home to one of 6 local University Bookstores.
"UW Bookstore has great selection of gifts, UW apparel, and specialty magazines and newspapers," says Jen. Indeed, whether you're looking for a new book to read, some reference guides, or something to show off your Husky pride, you will find it and so much more here.
---

Located at 800 164th St. S.E. L Mill Creek, WA 98012
Hours: 11:00am-9:00pm
What could be better than pizza? How about pizza paired with 18 varieties of cold craft beer? Elliott Bay Pizza & Pub is a local favorite and go-to spot for Travis and his family. This family-friendly locale is open 7 days a week for lunch and dinner and features one of the best menus in the Town Center.
"They make their own special dough each morning to be used for their incredible pizzas and sandwiches," says Travis. "They also serve a wide variety of great pasta dishes and salads." While you're here, be sure to take advantage of their beer selection, too: "They have also become very well known in the area for their extensive beer selection and ever-changing beers on tap," Travis shares. "If you are looking for something not found everywhere else, you need to come here!" Indeed, Elliott Bay Pizza & Pub is one pizza place you will definitely not want to pass up.
---
Located at 1018 164th St. S.E. Ste. A-22 Mill Creek, WA 98012
Hours: 10:00am-7:00pm Monday-Friday; 10:00am-6:00pm Saturday; 11:00am-5:00pm Sunday
"If you're a serious outdoorsman," Becky Larsen states, "check out Pacific Fly Fishers. Expert service in your own backyard." Indeed, everything from boats, flies, lines, and other fishing tools, to classes and water quality resources provided by passionate local fishers, gives you all you need to hone your skills and become a true master fisherman.
---
Located at 15224 Main St. #202 Mill Creek, WA 98012
Hours: 11:00am-11:00pm Sunday-Thursday; 11:00am-1:00am Friday-Saturday
Opened in 1991, La Palmera has been serving up delicious, authentic Mexican cuisine for 26 years. "La Palmera is a favorite Mexican restaurant," Becky says. "Family owned and great food." If you're a fan of grande burritos, sizzling fajitas, and margaritas made with premium tequila, this restaurant is the place for you.
---
Located at 15217 Main St. Mill Creek, WA 98012
Hours: 6:00am-9:30pm Monday-Thursday; 6:00am-7:00pm Friday; 8:00am-5:00pm Saturday; 8:00am-6:30pm Sunday
If you're looking to put a little more zen in your life, check out Hot Yoga Inc. This low-impact exercise routine works with your body's natural range of motion to help you lose weight, de-stress, and become your best self.
As an added bonus, Heather shares that "Hot Yoga Inc. has a $10 new student 10/10 deal and [is] one of the only studios with infrared heating."
---
Located at 13616 Bothell Everett Hwy. Mill Creek, WA 98012
Hours: 10:00am-6:00pm Monday-Saturday; closed Sunday
Local sports fans cannot seem to get enough of the new Mill Creek Sports, located just near the Town Center. "Just down the road is the location of the new Mill Creek Sports, which is known as one of the best sports memorabilia shops around," shares Travis. "They outgrew their previous place in town and now have a huge 2-story facility to house their items."
"Mill Creek Sports is known throughout the greater Seattle area as the place to go if you want sports memorabilia," Brian Hayter notes. "They have an incredibly wide selection of authentic autographed Seattle and beyond sports items. A must see for a sports fan!" Travis agrees, adding that "several times per month they also bring in high profile current or retired sports stars to sign autographs. Anyone and everyone has been there to sign autographs!" Whether you're looking for a gift or looking to meet your sports hero, you will love the offerings at Mill Creek Sports.